Kitsap County, WA
April 2021
10.9 miles, ~1700ft elevation gain, 6.5 hours
My AllTrails map
The way in.
Starting from the large parking area at the Wildcat Staging Area trailhead, the trail is wide and easy on the feet. As you progress and start climbing the trail, being a multi-use trail, it is not the best for foot traffic. Since dirt bikes frequent the trail, reasonable erosion control requires a heavier hand. The path varies from soft forest to exposed broken rock. At times it is flat; other times it is deeply rutted (dirt bikes).
The views are good including, Alder forest, expansive vistas, 2nd growth Fir forest, and a few creeks with bridges. More on one of the creeks later under The next visit.
There are some nice forest views and some invigorating grades (>30°) as you continue along south. As you gain elevation, you are treated to several peek-a-boo vista views. We had cloud cover limiting the view but could see east to Seattle, the Cascades remaining hidden behind the clouds.
You get a peek at the Hood Canal to the west as you take Vista Trail up to the peak.
At the top.
Along with a great view, you'll find several picnic tables placed around the peak. On a clear day, you'd surely be able to view the Cascade range from Mt. Baker south to just north of Mt. Rainier. The rock peak is bordered with a chain-link fence on the east side for your protection. The rock face drops off sharply.
Both the Seattle Skyline and Bremerton's PSNS with its historic crane are in view from the peak.
The way out.
After that brisk trek up to the top, the picnic tables and a hearty lunch both sat well with me. There is no water and no place to put trash so plan for that.
Back down Vista and heading east on Gold Creek trail you're treated to expansive open views of the Olympics and Hood Canal.
You'll continue around to Beaver Pond trail and take it back north to complete the loop. Then back on via Wildcat Trail to the trailhead.
The next visit.
I am thinking I won't make the whole loop on the next visit but will trek in as far as this first little bridge. I could not find the name of the creek it crosses. I think I can spend a few hours there getting shots of the stream with different lighting as the sun moves across the sky. I'll eat and take a nap between photo sessions. It'll be fun.
Overall.
Great hike! The 10+ miles, 25+ lbs. pack, and 1700ft elevation gain was all I had in me for that 6-1/2 hour trek. I usually over-hydrate, so that was good. I had decided to carry a stove and Mountain House meals. That hearty meal at the top probably was the extra detail that 'saved' the day, at least for me.
We met two new friends on the trail. This is one of them (the other was chocolate-colored):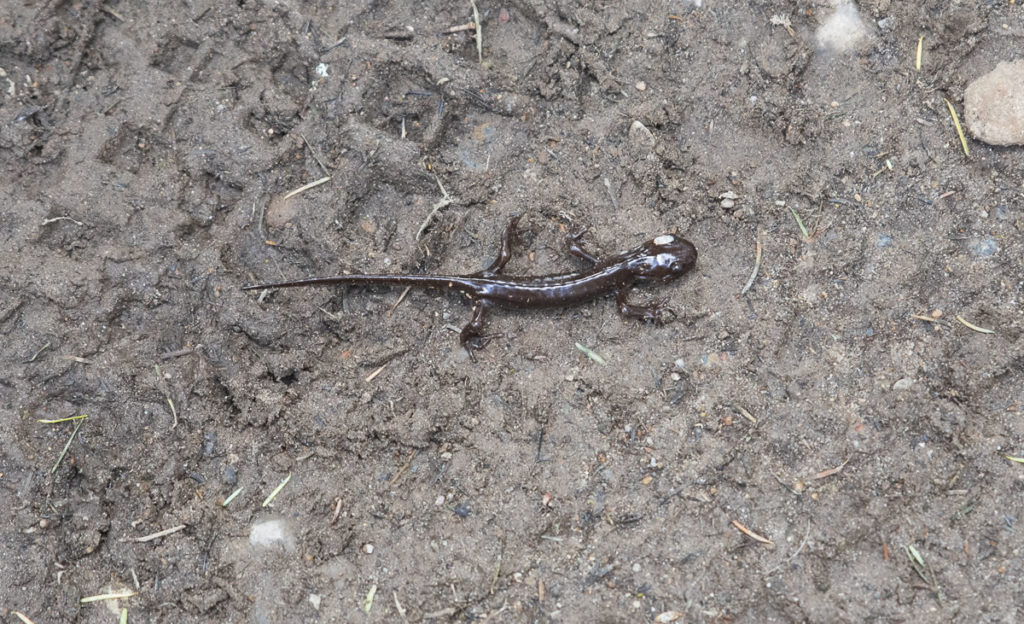 For light hiking
This is my current and fav boot. I like them because:
Gives some ankle support
VENTED – my feet sweat!
They are well made