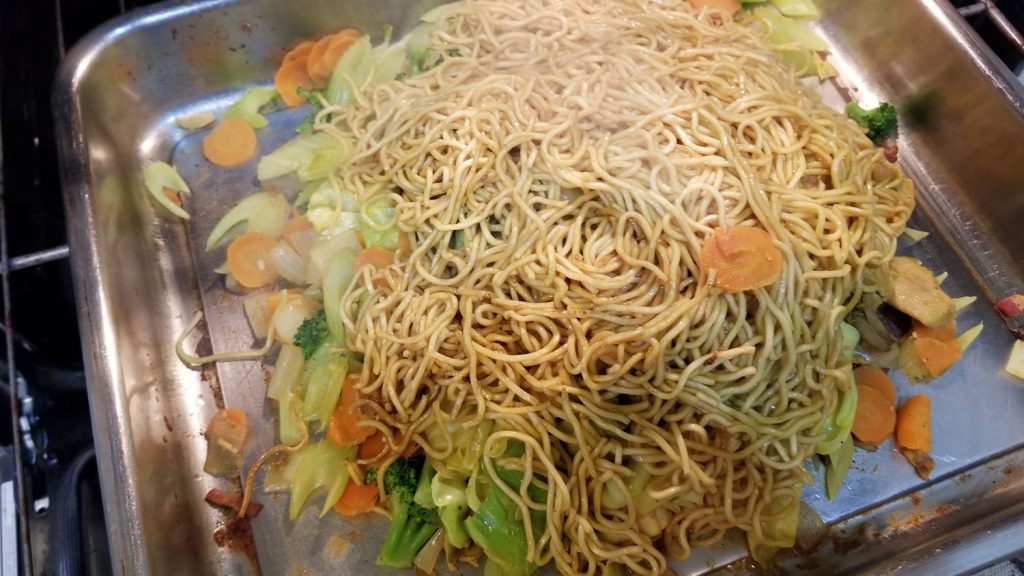 My daughter asked me for my Yakisoba recipe. OK, I will tell you what I make. By definition, I doubt it is truly Yakisoba. Maybe we'll call it Scotty-soba.
So, Yakisoba is basically a stir-fry. The Chinese originated the dish, and the Japanese adopted it with their own variations to the recipe including the noodles themselves containing buckwheat. I think the Japanese brought it the popularity it might now have.
When I first decided to try my hand at cooking Yakisoba I had never eaten it. As I read through many recipes I decided I would probably not like 'real' Yakisoba at all. I guess it is common to sprinkle it with fish powder when it is served… not for me. So, I made my own variation. FYI, I really like this
spatula.
Yes, I make a few cents when you buy it from that link.
Ingredients (r=required, everything else optional):
Yakisoba noodles (r)
Yakisoba sauce (r)
Oyster sauce
curry spice
olive oil
sesame oil
garlic
onion
cabbage
celery
carrots
broccholi
whatever: mushrooms, green pepper, etc. bacon
chicken (dark meat) precooked until done, fat and skin removed and torn/cut into bite size pieces
chicken broth
How I cook it: For most ingredients, the amount you want to use is the amount you'd want each person to receive on their portion.
Cut a couple of strips of bacon into small pieces and drop them into a frying pan on low-medium heat; you cook these until done but still crisp. The pan needs to be large enough to hold the entire meal. If you're cooking for more than 4 adults read on and I will describe how I do that, start with a large frying pan if in doubt. While that is cooking, prep the veggies in the order that they will be added to this pan. I personally add in this order: Carrots, Celery, Onions, broccoli, and right at the end, cabbage and mushrooms.
When the bacon is done: do NOT drain the bacon fat. If you don't want to eat that fat, carefully drain, keeping the bacon bits and pan scrapings in the pan for flavor. Add at least 1/2 cup water and increase heat to high. When it nears boil, add carrots. When the carrots are hot through add the celery and onions. You should stir the pan throughout this process.
Cooking for more than 4? you'll need to cook most of the components separately as the pan will not be big enough. As one component is completed pour the entire pan contents into a larger holding pan. Optionally, remove the veggies into another pan with a slotted spoon. I just keep adding new water/stock and some sesame oil to the pan as I cook and drain the veggie pan later to make the sauce.
The goal here is to cook all the veggies just shy of losing the crunch (more or less depending on taste). The broccoli can go in as soon as things heat back up and steam starts rising. The cabbage should go in next. I am not using the "whatever" veggies myself. You'd want to add them in the order that would get them "just done" when you pull the pan off the heat. Hmmm, well, "just done" should actually be just prior to just done as the veggies will continue to cook when you pull the pan from the heat.
Have a colander sitting in a large pan. Dump the frying pan contents into the colander. Then pour the liquid back into the frying pan.
Now you are going to make the sauce you will use to reconstitute the noodles. This can be done at high heat. When done, you need to have up to 1/2 cup of liquid for each 2 cups of noodles. This is to have firm noodles. For softer noodles, you want a little more sauce. I think I use about 1/3 cup per 2 cups of noodles as I like firmer noodles. Add chicken stock or water to the pan to get the amount of liquid you need. Add at least 1/2 tablespoon of garlic (2 cloves diced or crushed). Add curry powder to taste, I add maybe about 2 teaspoons per cup of liquid (I don't measure). Add at least 1 tablespoon of sesame oil for flavor if you like it. Bring to a boil and then pour into 3rd pan.
Cooking Noodles, noodles take up to 3 times the space when cooked as they do when in the bag. If you want 1-1/2 cups of noodles per person, pull out a little over 1/3 cup of noodles per person. I put the noodles on a plate, run hot water on them for a very short time and break them up (see video in slideshow). Be careful not to keep them in the water too long as they readily absorb water (they will end up very soft).
Finishing up:
Is this your first time? How to not make mush:
You don't want a sticky mess right? Add 1/4 cup of your sauce to the pan, medium-high heat. Add the noodles in, add a tablespoon of Yakisoba Sauce per serving. Toss this mixture with tongs. As the liquid starts to dry out, pull a noodle and taste. Is it too stiff/dry etc. – add a couple tablespoons more sauce and continue tossing over medium-high heat until they are the right consistency for your taste (keep tasting the noodles!). When there, add the veggies and meat in. Bring this up to temp while tossing. Add a little more sauce if it seems dry. Remove from heat and serve. Add Yakisoba Sauce to taste if needed.
You're confident:
Add veggie/meat mixture in pan. Add 1/3 to 1/2 cup of your sauce per cup of noodles, high heat. Add the noodles in, add a tablespoon of Yakisoba Sauce per serving (more or less to taste). Toss this mixture with tongs. As the liquid starts to dry out, pull a noodle and taste. Is it too stiff/dry etc. – add more sauce and continue tossing over medium high heat until the noodles are the right consistency for your taste. Remove from heat and serve.
Cooking for more than 4:
Add enough sauce for the amount of noodles that will fit into your pan at one time – ~1/3 to 1/2 cup sauce per cup noodles. Set heat to high. Put noodles into pan and add Yakisoba sauce to taste. Now toss noodles as they absorb the sauces. Veggies should still be hot, optionally, as you cook the the veggies add them to a large chafing dish in oven @~180 degrees F. Do noodles in batches, whatever fits your pan. As each pan full of noodles is ready add on top of veggies in chafing pan – do not toss yet. When the last batch of noodles is done, toss the mixture. The veggies will usually have extra moisture, but if needed add more sauce, toss and serve.
Done.
I like this spatula because:
It is a single injected molded piece — there is nothing to loosen over time
It has enough strength to flip heavy things
It is good for non-stick cookware